Want to know more about LED light therapy for your skin? Find out what it's all about, how it works and all of the benefits, right here.
What is LED Light Therapy for Skin?
LED light was initially proven to stimulate the growth of plants in the '70s by NASA. Realising that the light has the same effect on human skin, we leapt into a new age of skincare treatments.
LED light treatment is not a laser. It's actually nowhere near as strong as having any kind of laser skin treatment.
It also takes months to see results which means you need to have patience to see the visible effects but also, no scarring or adverse reaction should occur from any LED treatment.
How Does It Work?
LED light therapy works to penetrate the skin deeply but gently. The light activates your natural collagen production and stimulates cell regrowth and renewal. The results? Revitalised, fresh and youthful skin. Alongside acne and ageing-fighting benefits.
Benefits of LED Light Therapy
There are many skincare benefits to adding LED light therapy into your routine. Here are just a few of our favourite benefits.
Collagen Production
Collagen production in our skin starts to slow down as early as our mid-twenties. In order to maintain plump, fresh and young-looking skin, we need to produce collagen. LED light therapy can help.
Activating cells beneath the surface of the skin, light therapy encourages and stimulates collagen production, keeping your complexion plump, smooth and firm.
Revitalisation
LED light therapy gets to work activating the cells beneath the skin. This boosts cell renewal and cell regeneration which revitalises the skin for brightness while working against the visible signs of ageing.
This also helps with anything from dark age spots to pigmentation to clear the skin and create ultimate smoothness.
Eliminates Bacteria
A key benefit of certain types of LED light therapy is the ability to eliminate bacteria deep into the pores. This helps to fight against acne and can be successful in even very severe cases.
Soothing the Skin
Certain types of LED light therapy can work to soothe sore or sensitive skin. When used on a regular basis, this can help with skin issues such as eczema and rosacea.
Types of LED Light Therapy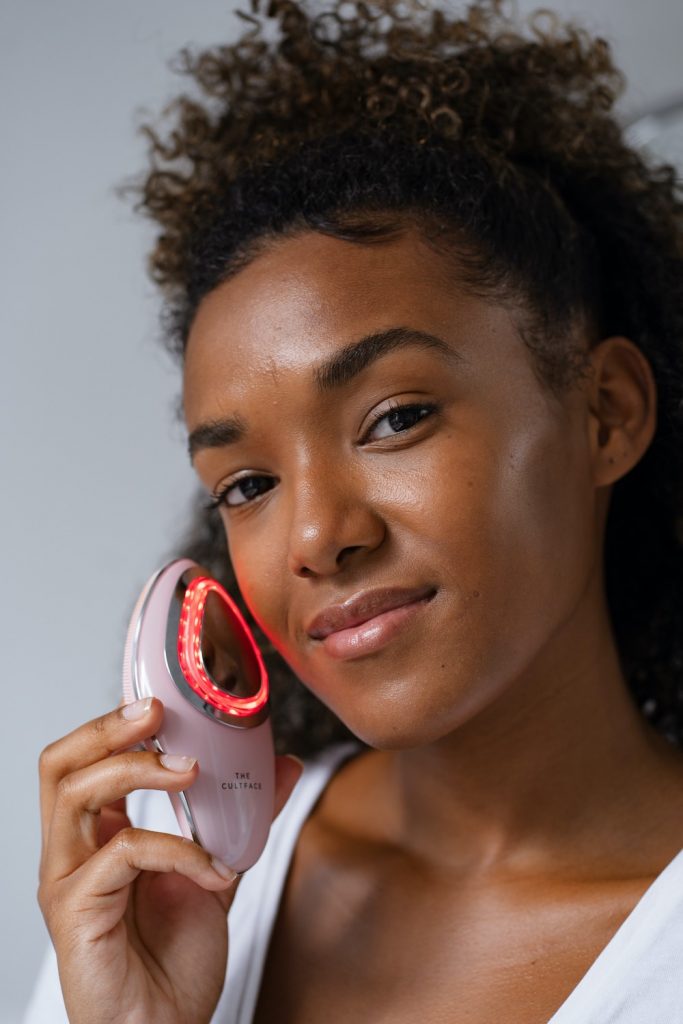 There are more than just one type of LED light therapy. Let's take a look at some of the different types of LED and what they can do for your skin.
Yellow Light
Yellow LED light activates cell regrowth and boosts circulation. This is great for dark spots as well as fighting lines and wrinkles for fresh and youthful skin.
Red Light
Red LED light promotes the production of collagen and elasticity. This is especially good for inflammation, so can help with issues, such as acne, rosacea and pigmentation as well as ageing.
Green Light
Green LED light is particularly good for damaged skin with dark spots or pigmentation. It can help to soothe broken and irritated skin for a soothing result.
Blue Light
Blue LED light scouts out bad bacteria and eliminates it, helping to take down acne.
Many LED facials or devices use a combination of different LED light therapies to achieve maximum results.
LED Light Therapy Safety
Unlike other types of light therapy, LED lights do not contain ultraviolet rays. Therefore, they're safe for regular and long-term use. Because of its gentle impact, LED light therapy does not cause burns or irritation to the skin compared with other anti-ageing treatments such as chemical peels, dermabrasion, and laser therapy.
LED light therapy should be safe for all skin colours and types. Please discuss with your regular facial professional if you have very specific skin issues or if you are currently undergoing a specific skincare treatment. You shouldn't use LED light therapy if you take Accutane for acne or if you're experiencing skin rashes or on-going severe irritation.
Side effects of LED light therapy are rare but may include increased inflammation, redness, and rashes. If you experience a side effect from the use of LED therapy, take a break from use and discuss with your facial professional.
Add LED light therapy to your skincare routine with our brand-new 8 in 1 LED and EMS Cleansing and Firming Device.