This is one of our most exciting product announcements. Our 8 in 1 LED + EMS Cleansing and Firming Device. Designing to battle acne and blemishes, skin ageing and so much more, this cleansing device shows us how important thoroughly cleansing our skin really is.
We've taken our time designing this cleansing device. And unlike any other device on the market right now, it does so much more than just cleanse your skin.
Let's look at some of the modes you can use on our cleansing device.
Cleansing Mode
The device starts with a deep and effective cleanse. We recommend you remove your makeup first so that your skin can deeply benefit and you can get the best possible results.
Add water and cleanser to the face before you begin. The vibrating cleansing brush removes excess dirt and oils from the skin, working far into the pores for your deepest clean ever. The cleansing mode is also the perfect way to massage and clarify your skin.
When you turn over the device, you can experience incredible lifting and firming results.
Export Mode
This mode uses positive ions to further cleanse deep into the pores. Red LED light is also used here to promote collagen bringing back your skin's youthful elasticity.
Infusing Mode
The infusing mode uses negative ions which help nutrients to penetrate deeper into the dermis. Alongside this, yellow LED light is used to activate cell regrowth and renewal and boost circulation.
Firming Mode
The firming mode uses innovative EMS technology. Electric muscle stimulation and red LED light therapy smooths and firms the skin with amazing results.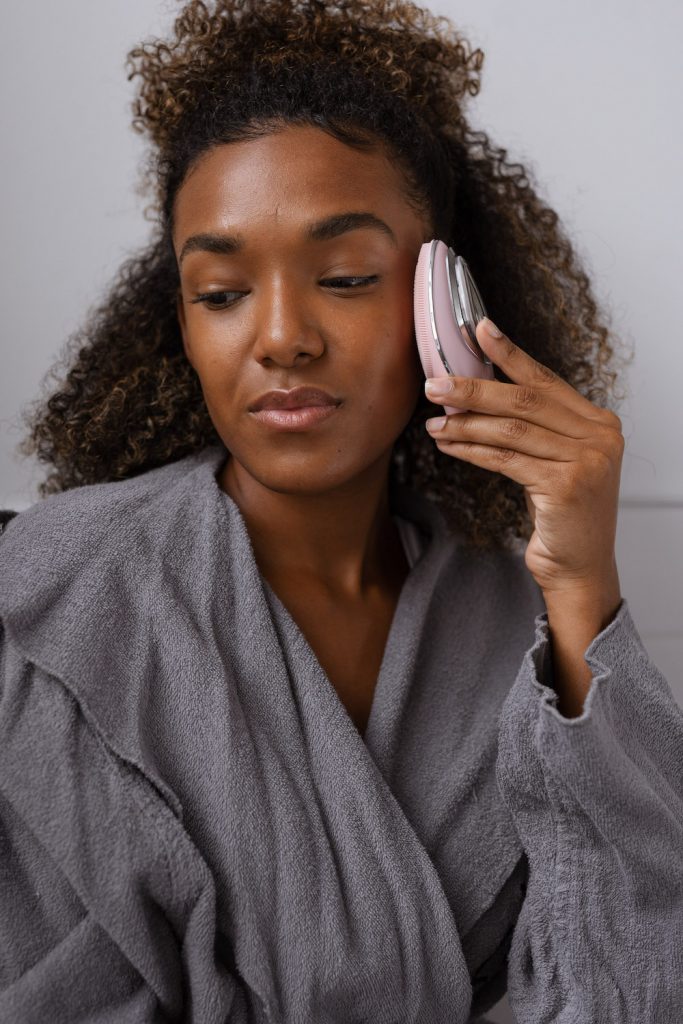 Why Is It So Important to Cleanse?
Why put so much effort into your daily morning and evening skin cleanse?
Washing off your makeup properly is essential for clear skin. But removing excess dirt and oils from pollution and everyday life is what will help you to say goodbye to acne and premature ageing.
Cleansing and moisturising (with toner in between) help you to maintain the right level of hydration and PH balance. This is essential for youthful, plump and bright looking skin.
Cleansing properly allows your makeup to sit nicely on your skin and allows the rest of your skincare to work at its best.
Cleansing Device Benefits
Why try The Cult Face's new 8 in 1 cleansing and Firming device?
Cleanse deep into the pores
Due to high-speed vibration technology, this device gets deep into your pores for a cleanse that removes dirt and grime but also keeps your skin super healthy.
Relaxing Massage and Clarifying Skin
An innovative cleanser, this device does so much more too. Alongside providing you with a deep and relaxing massage experience, you are clarifying your skin, purifying and clearing it of all residue and excess.
Smooth and firm skin
Who doesn't want both smooth and firm skin from their cleanser? A typical face wash can't offer you LED and heat therapy like our device. Working individually and together to give you the best possible results.
Bright and alive complexion
With better circulation than ever, your skin will look more bright and youthful than ever.
Helps your skincare work better and more deeply into the skin
With a thoroughly cleansed canvas to work with, your favourite skincare products can get to work much more effectively. Allowing them to penetrate deeply into your skin, the device makes sure your pores are ready and waiting for treatment.
Waterproof and hypoallergenic
Making it easy to use and clean, the device is fully waterproof. Alongside this, it's crafted from medical-grade materials which make it completely hypoallergic – perfect for even sensitive skin.
Is now the time to give your cleansing routine an overhaul?
Try our 8 in 1 LED + EMS Cleansing and Firming Device today.