Floral Water Hydrating Face Mist

Lift dullness and indulge in radiant and beautifully glowing, healthy skin with our brand-new formula double-use rose toner mist.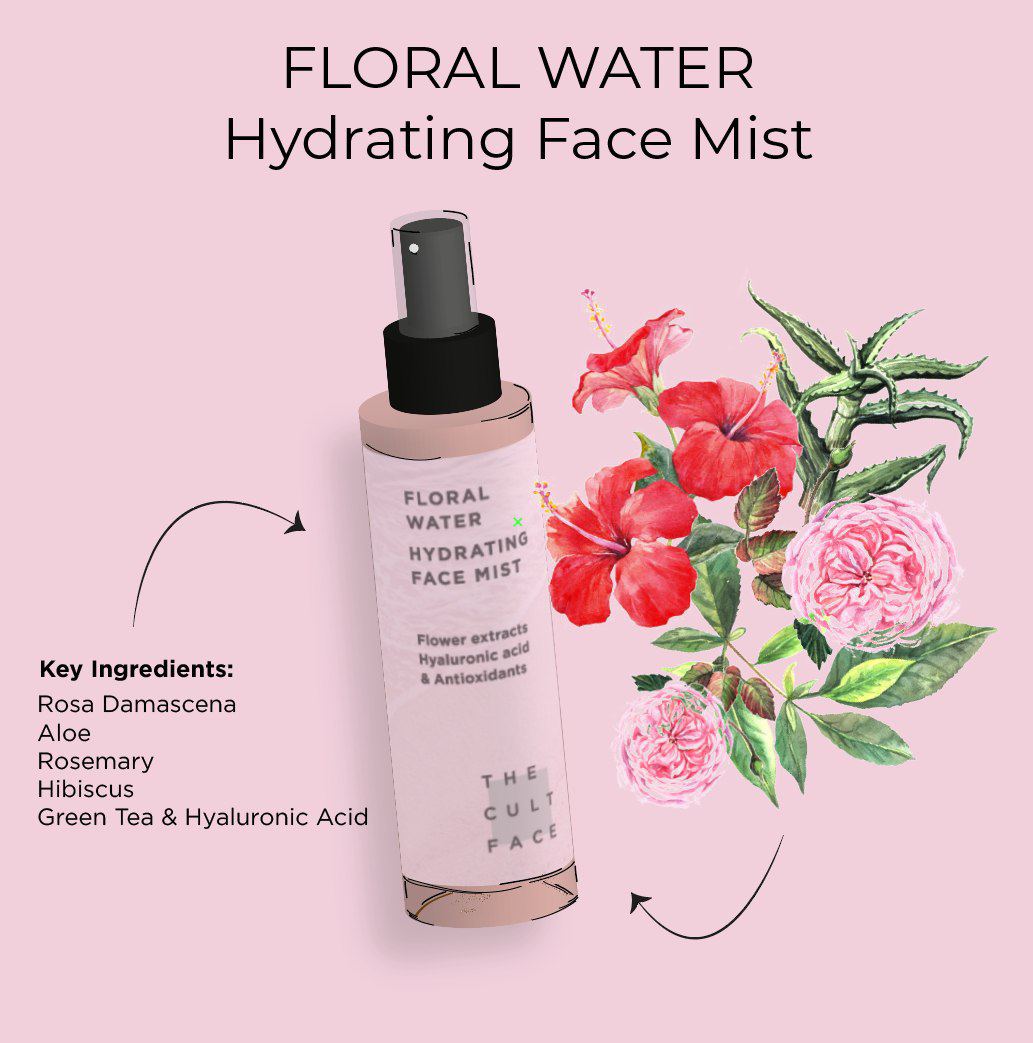 Crafted with natural Rosa Damascena flower water, our stunning toner is a must for any balanced skincare routine. Targeting dullness, premature ageing and inflamed or irritated skin, simply spritz and go as part of your skincare routine or over makeup.
Alongside the anti-inflammatory and anti-ageing properties of the soft Rosa Damascena, the toner's Aloe Barbadensis leaf juice acts as a deeply hydrating protective barrier to the skin, stimulating cell regeneration and nourishing with natural vitamins and minerals.
Rosemary leaf extract fights ageing by reducing pigmentation and repairing elasticity for a super smooth skin tone. We also made sure to include natural hibiscus sabdarifta extract to fight free radicals and speed up cell turnover. Green tea extract to help protect against UV, hydrate and reduce wrinkles and roughness for a smooth and clear complexion.
Key Ingredients: Rosa Damascena, Aloe, Rosemary, Hibiscus, Green Tea & Hyaluronic Acid
*96,5% Natural Origin Formula
pH 5,5-6,5
All Ingredients: Rosa Damascena Flower Water, Aqua, Aloe Barbadensis Extract, Butylene Glycol, Propylene Glycol, Rosmarinus Officinalis Leaf Extract, Glycerin, Hibiscus Sabdariffa Flower Extract, Camellia Sinensis Leaf Extract, Hyaluronic Acid, Citric Acid, Phenoxyethanol, Ethylhexylglycerin, Sodium Benzoate, Potassium Sorbate, Benzyl Alcohol
No
Parabens, SLES, Mineral Oils, Petrolatum, Synthetic Parfums, Synthetic Dyes, Silicons, TEA, MEA, PEGs
How to Use

Use our rose toner mist in two ways. As the perfect daily toner and as a refresher for your makeup throughout the day.
Enjoy your daily skincare routine with a double cleanse to remove your makeup. Spritz the rose toner over your skin and while it still feels slightly tacky to the touch, compliment it with a daily serum. Finish with your go-to moisturiser for smooth and youthful, gorgeous skin.
You can also use our rose toner mist as a quick refresh for your skin throughout a busy day. Spritz over your makeup lightly for an added touch of hydration for a healthy, dewy finish with a light, soft and feminine rose scent.