Have you heard of dry body brushing?
It's one of the hottest topics in the beauty world right now. But not because it's new. Dry body brushing has actually been used for centuries in many different cultures around the world. So, what is dry brushing all about? And how does this simple and traditional beauty hack give you glowing, smooth and gorgeous skin without the use of any products?
Keep scrolling to find out.
Do It First Thing
Body brushing is best done first thing in the morning. You need to bathe or shower straight after you've finished your brushing routine. But it's also a great way to wake yourself up in the morning.
Brushing stimulates microcirculation which brings oxygenated blood to the surface of the skin making you look and feel healthy and fresh. The perfect midweek wake-up call.
Dry Brush on DRY Skin
It should go without saying. But don't get tempted to add a scrub or lotion into your brushing session. This beauty process should be done on totally dry skin to get the best buffing results.
Shower Immediately After
Brushing buffs your skin's surface of dead skin cells and dirt. So, rinsing your skin thoroughly afterwards is essential for good results. Following your shower, get the best results by finishing with our Firming Body Butter Cream.
Start with Your Soles
Start body brushing the soles of your feet – carefully if stood up! – and work up towards the knees, hips, your torso and back and then your arms. Work the brush in short, sharp and circular motions towards your heart. Avoid long and slow strokes of the brush as this will be less effective.
This technique will garner the best results from lymphatic drainage and circulation.
Use Just Enough Pressure
It's up to you how much pressure to use when your body brushing. But bear in mind that it should never be painful or irritating to the skin. Adjust the pressure as you go, easing off in sensitive areas like the stomach or chest.
Dry Brush Regularly
Although you'll see and feel great body brushing results from your very first use, commit to regular brushing to get the best from your beauty tool.
Dry brushing 1-2 times a week would be recommended for anyone with regular skin. If you have sensitive skin, try once a week or once every two weeks until your skin gets used to the buffing process.
Don't Forget
Looking after your beauty tools is just as important as looking after your skin. Remember to clean your body brush and free it of any dead skin cells using gentle baby shampoo at least a couple of times a month.
Also, brushing is the same as exfoliating. So always remember to wear SPF to protect your skin from the sun.
Our simple and incredibly effective body brush is now available on The Cult Face.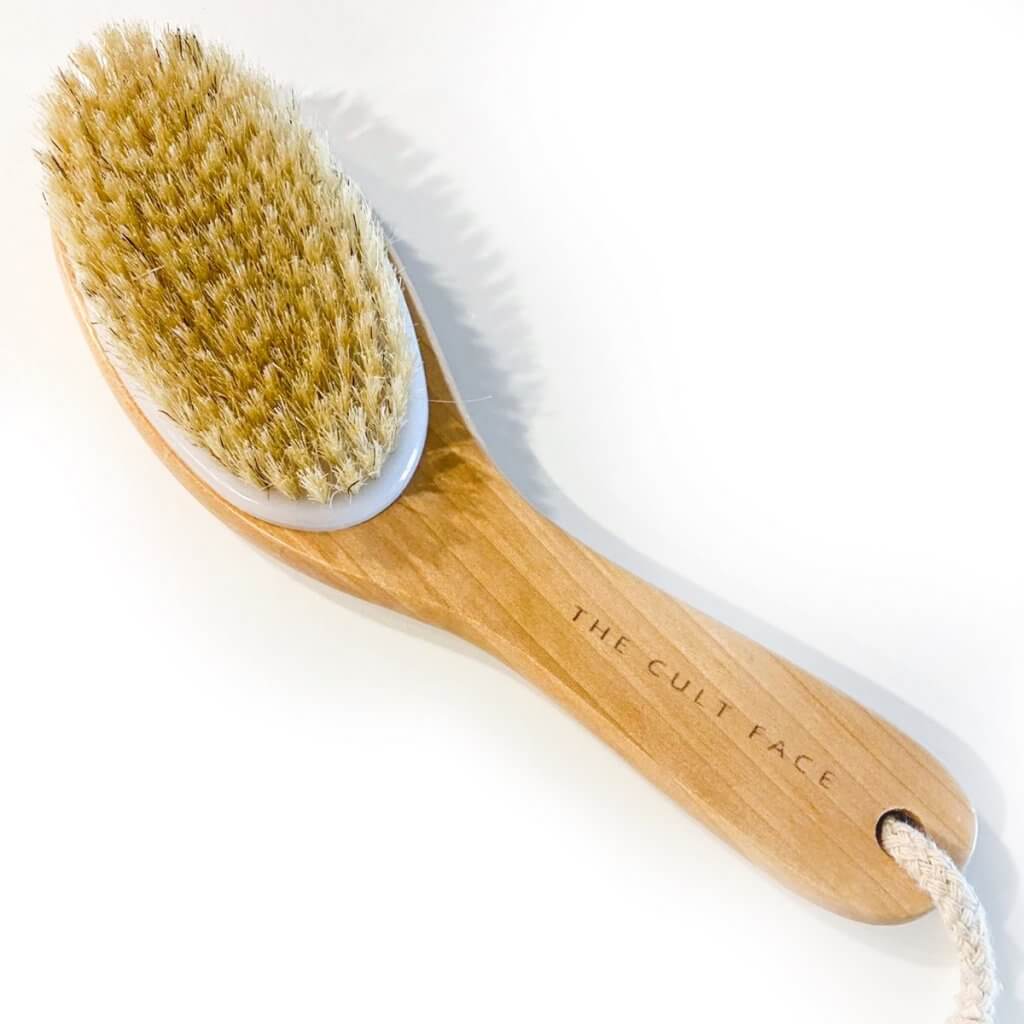 Crafted with natural bristles, the shape of the brush has been designed to help you get to those hard-to-reach areas. Ensuring you benefit from smooth, firm and glowing skin from head to toe. Try yours today.